About Bayridge Landscaping
Bayridge Landscaping is a reliable, efficient company building quality landscapes.
Bayridge Landscaping is a landscape construction company devoted to building high-quality residential and commercial landscapes for more than 30 years in beautiful Kingston, Ontario. We make personal service and attention to your unique needs our top priority because we understand that professional landscaping can not only increase your curb appeal and provide a high return on your property investment but also offers you a sanctuary to enjoy for years to come. Our goal is to add both beauty and value to your property.
We understand that there are many reputable landscaping companies in Kingston. What sets us apart though is our professional service, affordable pricing, and prompt and reliable service. No matter how big or small your project is, we will work hard to deliver the results you desire. This dedication to our work and customer satisfaction is what truly sets us apart and has made us Kingston landscaping company families trust. Whether you require landscape construction, maintenance, or materials; our team is here to assist you
We have the experience, the equipment, and the expertise to complete any project for home builders and home owners looking for quality construction and reliable service done right, on time and within budget.
Our Mission
To build landscapes best suited for your lifestyle.
Our Vision
We see homeowners spending more time outside, experiencing life and enjoying their yard.
Our Services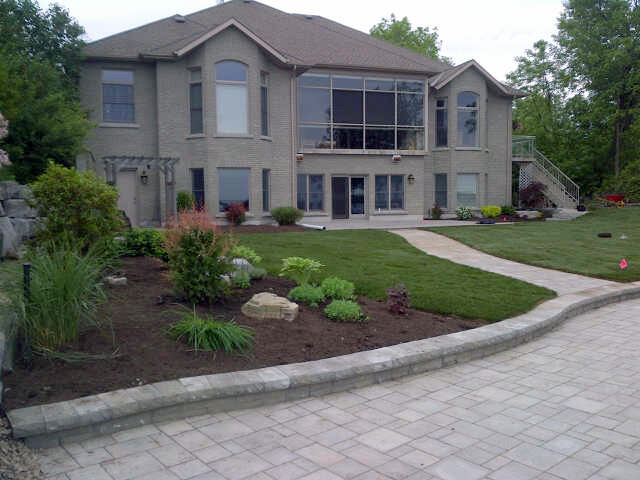 Our Expertly Trained Staff
In order to make your landscaping vision a reality, we make sure our staff is comprised of individuals with the experience and skills to get the job done right. Our staff members are properly trained how to safely operate machinery without causing harm to themselves or your property. Rather than learning as we go, we make sure that our staff has the relevant experience to complete a job correctly and promptly the first time. This results in increased customer satisfaction as we routinely complete projects on time and under budget.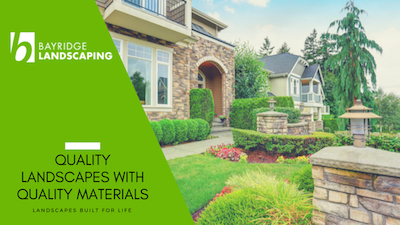 Our Guarantee to You
At Bayridge Landscaping, we understand that our customers expect a certain level of quality and professionalism. This is why we offer our 100% customer satisfaction guarantee. We believe that we should hold ourselves to the same level of service excellence that we expect from others.